When it comes to the "it" drink of the summer, it's time to think pink.
I don't know about you, but it seems that Rosé has taken over the world this summer. I can't open Instagram without seeing the pink wine, and I'm not mad at it.  I will admit that for the longest time I equated Rosé with White Zinfandel.  Since I'm not a huge fan of sweet wines, I stayed away.  With all the hype, and for drinking, I mean research, purposes, I picked up the bottle Cote des Roses you see on a whim at the liquor store.  As I've said before, I'm a sucker for a fun label or bottle, and this one with a rose-carved bottom did me in.
I was pleasantly surprised as I read the label that it was a blend of two of my favorite red varieties:  Grenache and Syrah.  While I can't say I've had Cinsault, after this Rosé, I'm ready to give it a shot.  It was surprisingly dry, completely taking me by surprise.  While it had a sweetness to it, it was by no means overpowering.  I will admit, I've bought another bottle to have on hand.
After imbibing, I decided to dig deeper, and the most helpful, easy to read info was on none other than Buzzfeed.  Turns out Rosé is made from red grapes that are lightly macerated.  The longer the skins are left, the deeper the color and the more it takes on red wine qualities.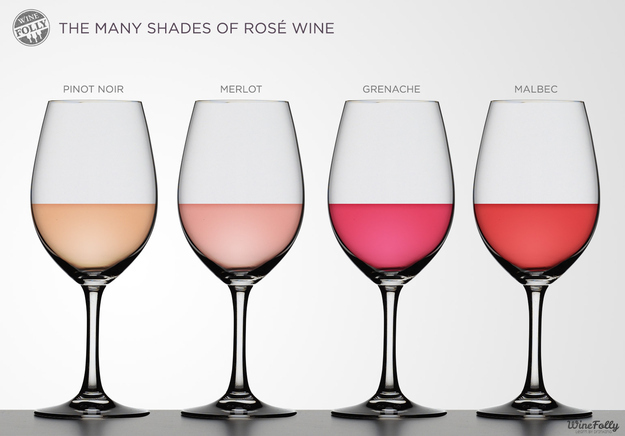 Unlike red wine, Rosé does not improve with age, so don't drink anything older than two years.  My bottle is a 2015, and if you'll remember from our post on DeBarge Winery, that's a good year.  For my friends that appreciate less sweet varieties, any Rosé from Europe will be less dry, and everywhere else will be slightly sweeter.  A good rule of thumb is to choose something from the South of France, which Cote de Roses is.  Other tips, eat it with BBQ, make cocktails and don't spend more than $15 a bottle. Cote de Roses clocks in at $14.99.
Diving into the summer of Rosé has been a fun adventure, and I will say, it will probably continue to show up in my wine rack through the winter.  When it comes to Rosé, the answer is Wine Not?
What are your thoughts on Rosé?  Keep up with the conversation on Facebook, Twitter and Instagram.